Meet the Staff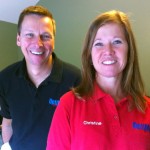 OptiMA, Inc. principals, Christine and Doug Klimavich, are partners in business and partners in life. You might say it was a match made in heaven. The pair met as undergraduates as Bentley University, where each honed different skills that would be critical to their future success. In her role as the company president, Christine's accounting skills come to the forefront. Doug focuses on the four P's of marketing: products, place, pricing and promotion. Click here for the rest of the story.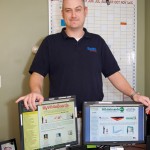 Adam Reed joined OptiMA, Inc. as a customer service representative in 2005, and it didn't take long for him to start putting his communication degree from Framingham State University to work. Adam says one his best professional qualities is the desire to learn, and that is surely obvious in the path he has taken here at OptiMA. His early interactions with customers on the telephone as a customer service representative taught him a great deal about the online shopping experience and the unique needs of customers who don't have the luxury of picking a product up and inspecting it firsthand. Click here for the rest of the story.
Laura Dupuis joined the OptiMA team in March 2011, shortly after OptiMA moved to its new headquarters in Shrewsbury. At the time, it was easy to see that OptiMA was growing, and that appealed to Laura.
Laura takes pride in her ability to organize, plan and communicate; of course these qualities are proving useful as OptiMA and its team continues to grow. With the growing company Laura's role has also grown to include much of the company's human resource responsibilities. Click here for the rest of the story.